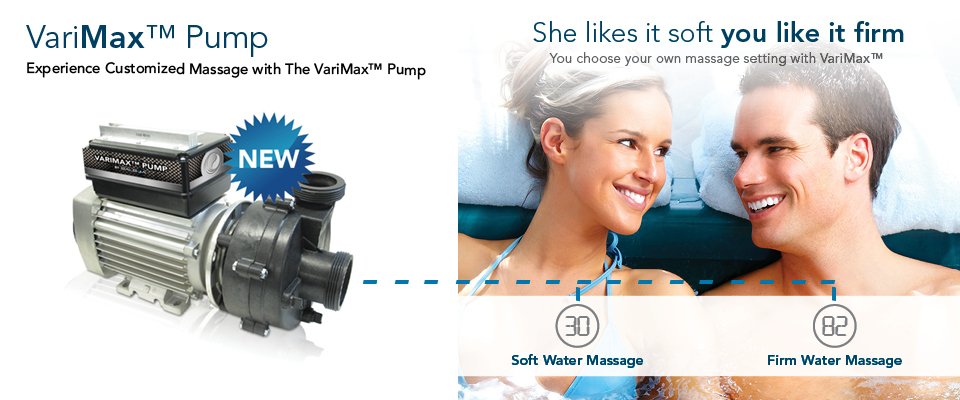 Experience Customized Massage with The VariMax™ Pump
Introducing VariMax™, the newest innovation in spa pumps from Balboa Water Group. The VariMax™ pump will provide a full body massage that will make you feel as though you have your own personal masseuse.
The VariMax™ pump allows you to create your own hydrotherapy options with a simple push of a button. You can enjoy water movement that is gentle, firm or anything in between by increasing or decreasing the intensity of the sensation or by selecting the wave/pulse massage option.
Enjoy lounging in your spa knowing you have the ability to customize your massage settings.  Experience water moving across your body – caressing your neck and shoulders, then pulsating down your back, legs and feet.
There are so many things in life that are out of your control, but your massage experience doesn't have to be one of them. Start your day with an invigorating massage or end your day with a soothing water sensation with a VariMax™ pump. It's your choice!
Features
• Infinite Speed Settings from 1100 RPM to 3400 RPM
• Replaces a Circulation Pump and/or a 1 or 2 Speed Pump
• Ultra Quiet
• Wave/Pulse Modes
• 2 Pumps in 1

Specifications
• Pump Material No.: 1016960 (60Hz market), 1016950 (50Hz market)
• Voltage: 230V
• Frequency: 50Hz/60Hz
• Current: 7.6A
• HP: 2.0

Downloads:
» VARIMax Control Panel Operation Guide
» VARIMax Francais VariMax Guide des Operations
» VARIMax Pump Sell Sheet
» VARIMax Pump Sell Sheet International

---